New Look Decorators Derby
Background
New Look Decorators Derby is a Derby-based painter and decorator with clients ranging from domestic housing to schools and businesses.
Decorating however, like many local trades, is very competitive when it comes to ranking in Google: there are many decorators, plumbers, electricians and joiners each competing for a limited amount of space.
While word of mouth is a great source of leads, being on page #1 of Google is where you need to be as most people don't know any tradespeople and naturally do an online search when the need arises.
Needless to say, despite all his good work Paul struggled to get his website constantly ranking on page #1 so, recommended by a friend, turned to us for help.
How We Helped
We inherited the WordPress website from the previous designer and agreed it was less of a complete redesign and more of a refresh – but with a complete revisiting and revamping of the SEO strategy with a thorough look at on-page and off-page SEO.
We first undertook an audit of the website and online profiles.
We discovered Paul had numerous domains such as .org and .com, some of which had their own websites created for different towns such as Ashbourne. This meant Paul had a number of sites which ultimately reduced the authority of the main domain, newlookdecorator.co.uk, and covered far too many bases.
Furthermore, online profiles such as Bing, Google and Yell all pointed to these different domains thus creating a confusing scenario for both search engines and the potential customer. This needed unravelling and optimising and all domains needed pointing to one, and only one, domain. We also updated each online profile with more relevant and up to date content.
The website audit removed old and out of date content, and we set about an on-page SEO strategy of rewriting and creating new content, and optimising the site around the company's core services and location.
In addition, no goals had been set up so it was difficult to see with any certainty how well the website performed at generating leads (as opposed to just generating traffic). We therefore created an online form for people to request a quote immediately and implemented a click-to-call feature which saves people having to remember the phone number when they leave the site and use their phone's keypad.
Outcome
Newlook Decorators Derby now ranks on page #1 for its target keywords both in the local Map Pack and organic results on both desktop and mobile. This is a tremendous improvement as compared to prior to the refresh.
The website also brings in leads on a daily basis and monitoring performance is much easier now proper goals and forms are set up.
We have since expanded the website to include other services and locations (which also rank for their target keywords) and update online profiles with fresh content on a regular basis.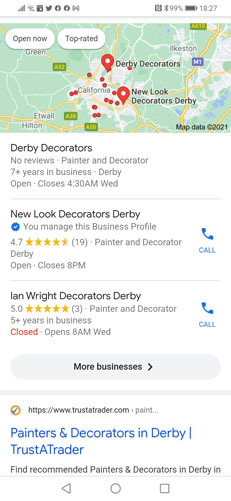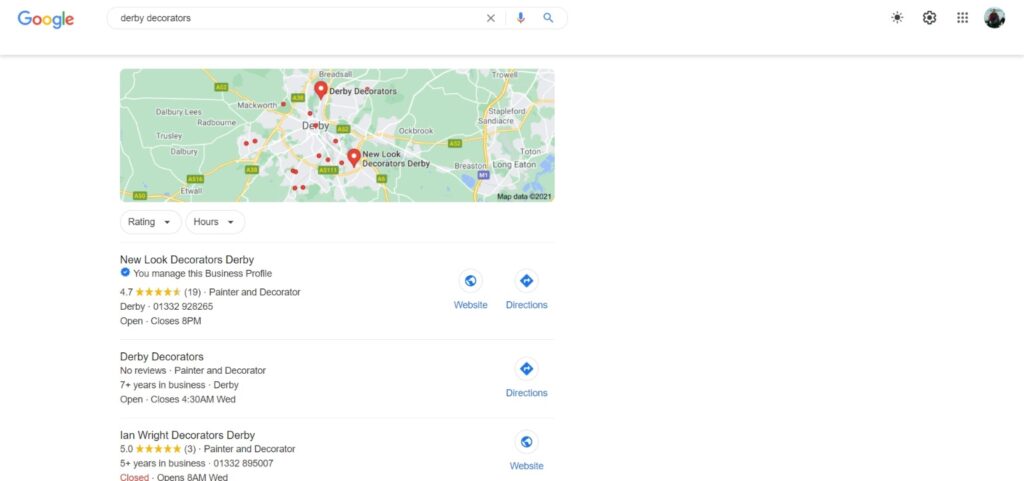 Need Help With Local SEO?
Talk to us. We can optimise your website to rank your business in Google and help you start generating more local leads with targeted traffic to your website.