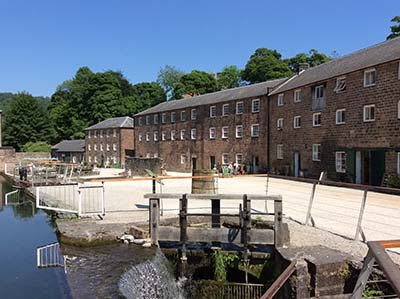 WordPress Training
Sheffield, Derby and Nottingham
Trailblazer360 trains businesses and organisations on how to use WordPress. We provide two courses: WordPress Pioneer (a classroom-based, beginner-to-intermediate level training course) and WordPress In-House (bespoke training tailored to specific requirements, in-house or off-site).
Much of our training is conducted at Cromford Creative – a newly refurbished office, business and conference place in the historic Cromford Mills near Matlock, Derbyshire. It is ideal for businesses and organisations based in Sheffield, Derby and Nottingham, and close by.
Directions are along the A6 from Belper and Derby if coming from the south or east, or through Matlock if coming from the north and west. Parking is available opposite the offices or on the road. Cromford train station is only 500m away.
Forget the congestion of the city. Come for a day's training in the Derbyshire Dales.
Having been given a new challenge at work to support the website but more importantly oversee the functionality of our internal Intranet system, I needed to enhance my basic knowledge of WordPress. After searching the intranet I came across "Trailblazer 360", who were not only local to where I lived, but also appeared to offered the ideal "WordPress training" that covered my needs at the present time. I met with Robin at his office for what turned out to be a one-to-one training session. It was very informative, hands-on and whilst covering the essentials for me to manage my work system efficiently, also included suggestions specific to another website which I had developed and looked after. Since the day spent with Robin, I have asked further questions, which Robin has kindly responded with suggestions. "Trailblazer 360" offers a value-for-money service, good support, friendly outlook, professionalism and only happy to assist with anything. I would have no hesitation in recommending them as a company to contact and work with and most importantly always ask your question – Robin always has an answer!
Upcoming WordPress Training