The Importance of Google Business Reviews and SEO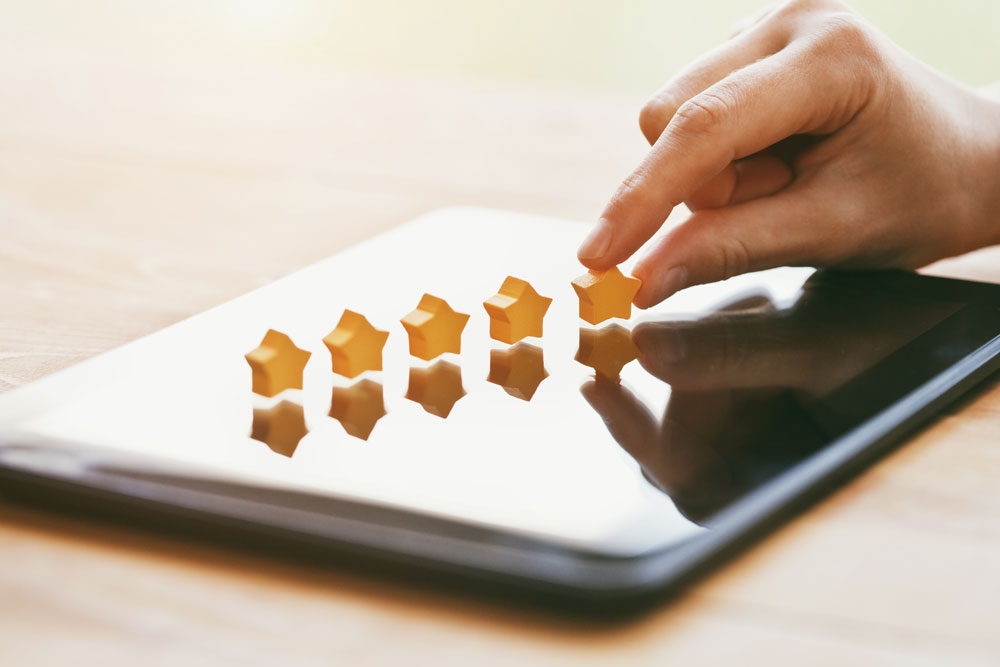 Google My Business reviews are a component of the Google My Business tool and publicly display customers' satisfaction with a business's products or services with a rating out of five, and comments. They are widely considered an important business ranking factor in search engine optimisation (SEO), especially for local businesses, and should therefore be an integral part of any local SEO strategy (though it's also sensible for any business regardless of where their customers are located, near or far).
Anyone can review a business (which can make it open to manipulation, more on that below) but the more reviews, the merrier as not only do they send strong signals to Google but also help customers in their purchase decision.
You will likely have seen star ratings and reviews but may not understand quite how to get them, or their significance. So, what do we mean by Google Business reviews?
A Quick Note About Google My Business
Consider Google My Business as part of a Google business directory. Not a directory in the traditional sense in that all dentists and mechanics in a city are listed from A-Z but it's a free tool that allows businesses to add their official information to the Google database.
You can add a business category, images, opening times, an address, phone number etc. Google will then send you a postcard with a code to verify your existence as a bona fide entity. When someone searches for your business these details appear in a special panel alongside (desktop) or on top of (mobile) search results.
Need help setting up Google Business?
Let us help.
What Are Google My Business Reviews and Where Do They Appear?
Reviews and ratings are another component of the ever-growing list of rich results appearing in search. They are part of the rich snippet and structured data family that Google increasingly uses in its algorithm to produce results and will dominate search results in coming years.
Ratings appear in two places:
Organic search results:

On a desktop, in the Google My Business panel in search results and map listings as simple star ratings. Comments are further down below the Popular Times
On mobile, at the top on the Overview tab, and comments and more details on the Review tab

Google Maps:

On desktop, on the left hand side
On mobile, underneath the listing
Screenshots below show ratings on desktop and mobile for the National Tramway Museum. With 586 reviews and an overall rating of 4.6/5, that's pretty good going.
Reviews on other platforms are also evident: Tripadvisor (2,251 reviews) and Facebook (98 votes).
To verify the results from Tripadvisor and Facebook visit their platforms. It will also give positive signals that the Museum is the number one thing to do in Matlock on Tripadvisor, and over 23,000 people have liked it and 25,000 follow it on Facebook.
You can also see reviews by searching for the business on Google Maps. In this case we searched on desktop for another popular attraction, Gulliver's Kingdom, and the GMB panel appears on the left:
Search Engine Optimisation Training
Get found on Google
Google My Business Reviews and Search Engine Optimisation
While only Google knows the recipe to its secret sauce enough hints have been given and tests run to suss out that reviews in general can strongly contribute to a higher ranking.
When ranking a local business Google itself lists three major components: relevance, distance and prominence. To quote them:
"Google review count and score are also factored into local search ranking – more reviews and positive ratings will improve a business's local ranking."
So there you have it. Straight from the horse's mouth!
The authoritative Moz 2017 Local Search Ranking Factors Survey also points to both GMB signals and review signals as important ranking factors. It suggests the importance of reviews in boosting the ranking of a local business increased by 21.53% between 2015-2017 to 13.13%.
The 2017 Local SEO Ranking Factors report by Local SEO Guide also sums up the importance of reviews as follows:
"Reviews are obviously a driving factor of ranking in Google My Business pack results … it's a way for Google to crowdsource ranking factors, it's hard to spam, and the most problematic type of abuse is illegal. It's also something that let's Google approximate online to offline ranking factors … All of this means it's something that is easier for them to trust then say, links. At a high level, having a keyword you are trying to rank for, and a mention of a city you are working to rank in, in reviews has a high correlation with high ranking Google My Business results."
In short, reviews send a strong signal to Google that your business is popular, active and in business.
Reviews are very much part of local SEO ranking signals, i.e. ranking for terms that specify a location, or are location-based in nature, e.g. Rotherham accountant, Leicester dentist, Derby printer, computer repair near me, office to rent near me.
In the example below we searched for "Manchester lawyers". Each result has a star rating. These are pulled directly from Google My Business.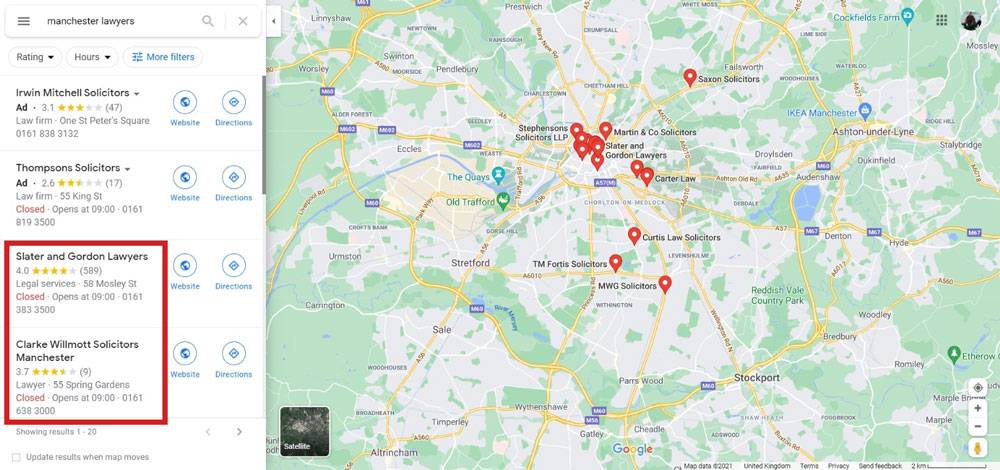 Local Search Note
Much attention is given to Google My Business and local search engine optimisation. Local SEO, as it's known, comprises a slightly different set of rules to the more general SEO landscape but all businesses should get in on the act of seeking reviews regardless of whether they consider themselves local or not. Yes, Local SEO does refer to the coffee shops, restaurants and yoga classes in a specific location – the typical local business – but it also refers to a far wider set of lawyers, doctors, trainers, carpenters, builders, designers, software engineers etc. Even if you service a wider region, e.g. Greater Manchester, the South East or UK in general, reviews still send very positive signals to search engines and potential clients alike.
However:
Reviews will not trump a

crap

poor website and user experience. Just because you have more, or better, GMB reviews than your competitors does not mean you will rank higher. Search engine optimisation is complex and never will one component by itself shoot you to the top
It is also entirely up to Google whether reviews are shown, or not. Businesses can point Google in the right direction by optimising their websites and GMB data but you cannot force results to show up
Google Business Reviews and Customer Perception
Think back to the last time you booked a holiday or bought something online. Did you look at the reviews? Did they consciously make a difference to your purchase decision?
The fact is if people don't know your business they're far more likely to trust reviews from friends and peers than company PR and that's how reviews work.
There are bucket loads of stats to back this up but by way of example according to BrightLocal's Local Consumer Review Survey 2020:
87% of consumers read online reviews for local businesses in 2020
79% of consumers trust online reviews as much as personal recommendations
30% of consumers would visit a business' website after reading a positive review as their next step
12% of consumers now contact a business after reading a positive review
And according to research by Moz:
"… online reviews impact 67.7% of respondents' purchasing decisions. More than half of the respondents (54.7%) admitted that online reviews are fairly, very, or absolutely an important part of their decision-making process."
Google recognises this, and the GMB review system allows people to publicly rate businesses. If you're searching for a business, you're likely to listen to what others have to say.
Why Would Anyone Want to Review Your Business?
Good question. In the same manner that people like to share news, updates and posts on social media, people like to post reviews.
According to TrustPilot, people write reviews because:
There is an emotional appeal
They allow expression, empowerment and "consumers a public outlet to voice their opinion. Reviews provide consumers a chance to tell their side of the story"
I review therefore I am: "Reviews serve to feed the ego, by giving reviewers the opportunity to be recognized and acknowledged by their peers"
They offer a sense of community and altruism: "It helps influence their decision if they want to buy with the company or not"
WordPress Training for Business
Classroom Based and In-House
What are the Downsides to Business Reviews?
Good reviews produce not only strong ranking signals, but also create trust in your business. Consistently poor reviews would likely indicate a problem with products and services, quality and/or communication and Google is not averse to displaying bad reviews either. The downside therefore to reviews is that it can put your business in a bad light. Who wants bad reviews to show up in Google?
Googling "Derby plumbers" for example shows Derby Plumbing Services with two three-star reviews. I don't know this business but which business would you prefer calling or which website would you more likely visit? Pride Plumbing Services and Vass Plumbing & Electrical Services with lots of five stars or Derby Plumbing Services with two?
Derby Plumbing Services would be well advised to get more reviews to improve their rating.
Anonymous and Fake News Reviews
Why would someone post a fake review? We're all familiar with fake news in the liberal, mainstream media and fake reviews are very similar in that they push a bogus agenda. Businesses might try and game the system and post rave reviews about themselves, or derogatory reviews about a competitor, all with the aim of improving their rank and visibility in search engines.
You can't post anonymous reviews on GMB as you must be signed into Google to do so – but that doesn't stop people creating fake email addresses for such purposes. We're all familiar with the (apparently) sneaky Russians trying to manipulate elections and they would have done this through fake email addresses, profiles and accounts. Well, creating a fake email address and writing bogus reviews is in the same ball park.
Businesses might well do this themselves. Alternatively they might pay a third party, such as a marketing agency, to do so. (BTW we don't and won't post fake fake reviews so there's no point asking.) Payment might be direct or in return for an incentive or discount.
Fake reviews are a HHUUUUGGGE No No from Google so you have been warned, but the fact is they happen and anyone can review a business. Be aware! To quote Google: "Google has no tolerance for fake reviews. We may take down any review that we think is fake or that doesn't follow Google's review policies."
Reviews should be organic, natural, from real people, real customers and at a natural frequency and volume. So getting 100 reviews in a few days (a large volume and high velocity) may seem unnatural and Google could come down hard. Post fake reviews and you could fall foul of Google's Review Policies such as having your site demoted, removed from search altogether or handed a manual action (no pun intended). Policies are quite broad but cover a wide range of spamming, foul language, copyrighted content and more.
To clamp down on this since 2016 Google has tightened its policy and now says if you're making a product review, for example, you need to openly state if you're benefiting.
As Kevin Lee points out, fake reviews "may subject the marketer and/or opinion spammer to criminal and civil penalties". That's pretty harsh but highlights the severity. The article, while speaking about reviews in general, is worth a read.
Suffice to say, you've been warned.
How Do You Know If You Receive a Review?
When a review is posted you'll be notified via email. You'll see who posted and when, and be able to click through to read it. This will take you through to Google My Business.
Of course, as reviews are public you can also search for your company on Google, look at your GMB profile and click on the review. The name of the reviewer, their profile image and the review will appear.
Note: just because you have a Gmail account and you're the MD of your business does not mean you have access to your GMB listing! Many times we've come across businesses who have no idea how to access their Google Analytics, Search Console and My Business profiles. An agency or (previous) employee set it up aeons ago. Get it sorted!
If you're keen on being notified when you get a review, and replying, make sure you're the owner, manager or communications manager of that listing!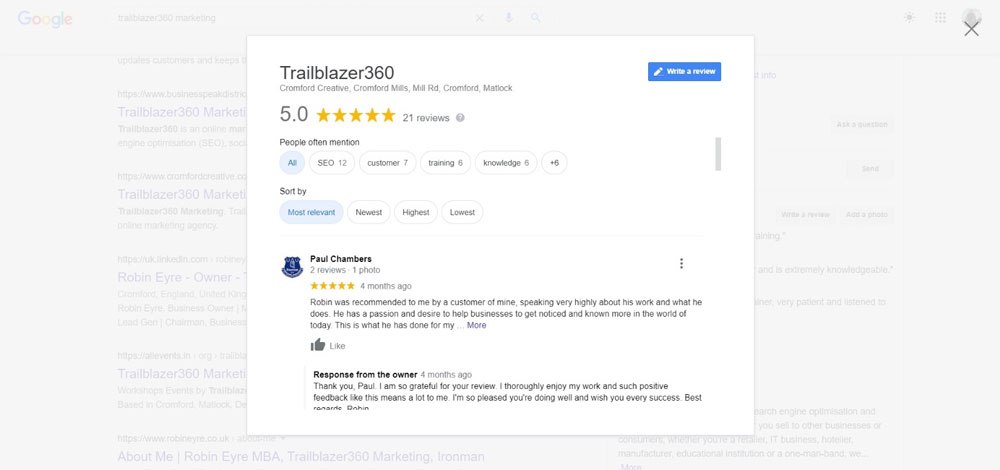 Can You Edit a Google My Business Review?
No. Businesses cannot edit reviews left by customers but it's always a good idea to reply to them.
Businesses can edit their own replies.
How to Dispute or Remove a Review
If you think a review is fake, completely unfair or misrepresents the actual course of events there are steps you can take to remove it. To be honest, WhiteSpark has written a pretty good How To guide on removing fake reviews so rather than reinventing the wheel I suggest you take a look.
How to Submit a Review to Google
Remember, all reviews are public so if you're slagging someone off, you've got a monk on or you're of a nervous disposition and can't take the heat then treat it with caution, but you can always remove your review later.
An aside: this post began as a How To guide for our clients on giving us a review. So for our legions of loyal fans please click here to leave us a phenomenal review. Your loyalty and dedication to the cause will be recognised 😉
So, on with the post … To submit a business review search in Google for said business and ensure the business panel appears.
Click on "Write a review" and a popup will appear. You'll need to be logged in with you Google account. Enter review here, do the necessaries and add a photo if need be: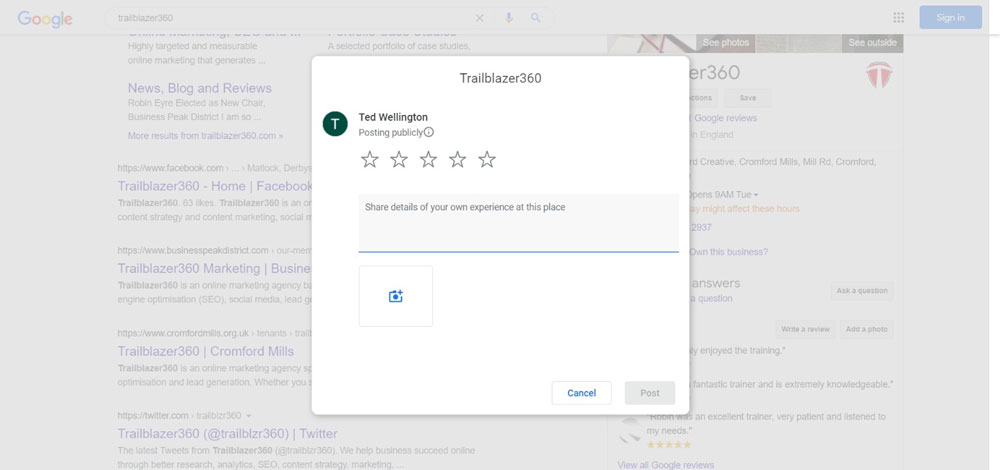 Click Post and Bob's your uncle (no, there's no button that says "Bob's your uncle". How else do I put it? Ah! Click Post, and you're done).
Responding to Reviews
It's a good idea to acknowledge receipt of a review, good or bad. It makes you appear on the ball and that you care about their feedback. Reviews are public so your responses will also be public so if someone has left a negative review this is your opportunity to give your response.
Hey, Google even recommends it:
"Interact with customers by responding to reviews that they leave about your business. Responding to reviews shows that you value your customers and the feedback that they leave about your business. High-quality, positive reviews from your customers will improve your business's visibility and increase the likelihood that a potential customer will visit your location. Encourage customers to leave feedback by creating a link that they can click to write reviews."
Replying in a timely and professional manner is always good. As Google says: "Reply to reviews to build your customers' trust. Your customers will notice that your business values their input, and possibly leave more reviews in the future. You can also create and share a link that customers can click to leave a review."
Further good advice from Google is:
Be nice and don't get personal
Keep it short and sweet
Thank your reviewers
Be a friend, not a sales person
If you feel reviews are inappropriate you can flag them. For instruction on how to flag inappropriate reviews, click there.
Remember, to post a reply you must be an owner, manager or communications manager of the listing. To do this go to your Google My Business listing and click on Reviews: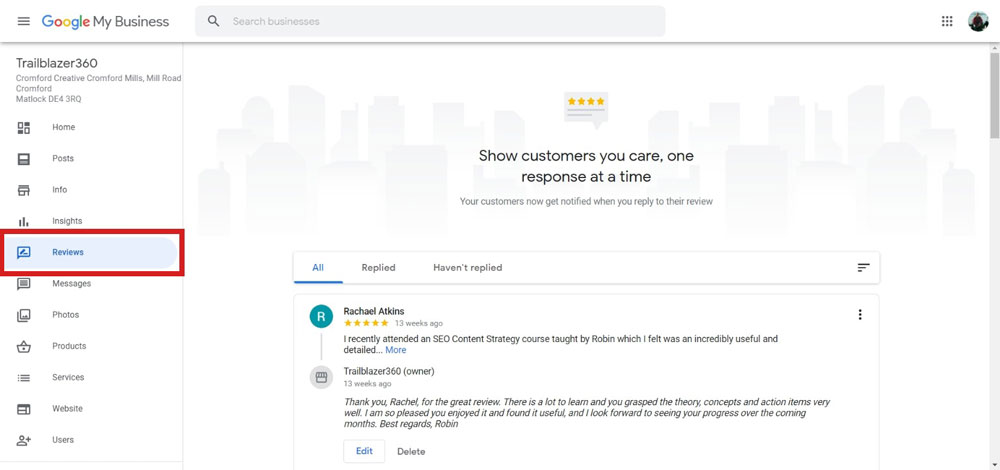 Other Review Platforms
GMB reviews are not the only reviews displayed or worth spending time seeking. Depending on your industry you may have Trip Advisor reviews, Foursquare reviews, Yelp reviews, user feedback, website comments, product reviews, recipe reviews, restaurant reviews, etc. etc. etc., and different platforms increasingly exist to facilitate reviews such as Feefo, TrustSpot, TrustPilot, Yotpo, Reevoo, and more.
Google can pull these in to its results regardless of whether they're reviews of your business, product or service.
Heaps of niche directory platforms have also grown such as Trusted Trader, Check A Trade, mybuilder.com, camping-gas.com. If your industry has a specific review platform or directory, get on it. (We may talk about different review platforms in another post but bear in mind that GMB is not the only platform, but it should be a high priority.)
Conclusion
Getting reviews on Google My Business should be a part of your online marketing strategy. Not only will it help rank you higher it will also generate trust in your brand with the customer.
If you need help setting it up, just get in touch, and do comment below on your experiences with reviews.
Need help setting up Google Business?
Let us help.